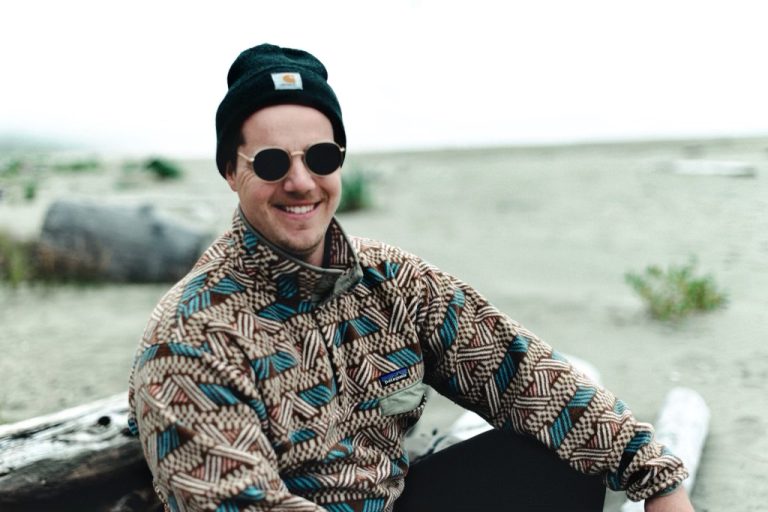 Becoming a teacher wasn't part of Rob Bennett (B.Ed. '19) future plans after completing high school. In fact, it wasn't even part of his plans after completing university.
"I had a teacher that really motivated me and encouraged me to start figuring out my options in preparation for after high school," says Bennett.
Bennett worked hard throughout his grade 12 year and went to the University of Victoria to pursue his Bachelor of Arts with a major in History. Following graduation, he worked in construction and had started to make plans to travel when a family friend steered him in another direction — teaching.
"I applied to UBCO's Bachelor of Education program, and that's where everything fell into place," says Bennett. "I always knew I worked well with people, but it wasn't until I started teaching that I felt like I could see my strengths. It took other people, like my family, teachers and professors, to point me in this direction."
For the last four years, Bennett has been teaching in the Indigenous Academy at Kelowna Secondary School — and has had a rapid learning curve since he started.
"This was a position that I had no background in. I have a major in History and minor in English, and I was asked to teach indigenous culture and English. I had a lot of learning to do, especially as a non-indigenous person, and I am always continuing to learn."
In the Indigenous Academy, there are multiple teachers working together with the goal of helping students, especially Indigenous youth, graduate. They provide a space for students to learn culture and develop community.
"We all work together and the students go through the Academy as a cohort, and develop skills in a space where they feel safe to make mistakes," says Bennett. "They've also given me space to make mistakes. As a non-indigenous teacher teaching culture, I don't really teach it in the traditional sense. I made sure I developed a community where it felt safe and welcoming to bring in cultural leaders from around the community to make sure that they were the ones teaching those important pieces."
During Bennett's first year, they took students to visit the Tk'emlúps te Secwe̓pemc nation and Kamloops Residential School. Prior to the trip, the students had been reading Indian Horse by Richard Wagamese, and had an Elder come in and speak to her experiences as a residential school survivor.
"Sitting on the bus, I had a non-Indigenous student tell me 'Mr. Bennett, I get it. I understand what I'm doing here now,' and that was a moment when it clicked for me. It's not about all the content or the things I learned in university. It's how you approach the situations and work with the kids in the moment."
Bennett was a finalist for the 2022 Premier's Awards for Excellence in Education, Outstanding New Teacher category. An honour that he wishes he could have shared.
"I am appreciative to have been a finalist and grateful to my nominator, Graeme Stacey, and my references for their outstanding support. It was nice to be recognized, but it's really the students and community, including our elders and advocates, and their hard work and dedication that make the program what it is."
The program, using the Medicine Wheel, focuses on being a holistic individual — looking at the physical, emotional, mental and spiritual parts, because if one part is broken then everything else will begin to fall apart.
"It's not always about where you start, it's where you end up. I didn't see myself being here. I wasn't the greatest student and that's a connection point I have with some of my students. I remind them that it's not always about being the best student, it's about being your best self."
The Academy has given students an opportunity to find a place in school, and many have found success in the program.
"Some of my highlights have been seeing the confidence build within the students. That's when I really love teaching, when you see the kids light up and figure it out themselves," says Bennett. "We've seen many students get accepted to universities, and last year one student won a prestigious award at their university, and there are the tears and hugs. But the biggest moments that still rock me, are the handful of parents that tell us 'you saved my kid.' Those are the moments where I reflect on what's been accomplished, what I've been doing, and feel like it's working. If it works for one kid then I feel like I've done my job."
***
For teachers that are seeking to build community connections with Elders or learn new ways of bringing in Indigenous ways of knowing and being, Bennett has offered some of his learnings over the years.
Work with your school's advocates
I wouldn't be here doing what I'm doing without my advocates, Dawn Dionne and Steve Kelly, they are a lifeblood. We work very closely together, and it's been a huge benefit for this school. Especially working with the students on a lot of the cultural activities and helping me feel comfortable so I can focus on the lessons and facilitate the learning. Knowing that there is someone with me that can also participate with the cultural aspect has been a huge development.
Reciprocate relationships
Sometimes a concern from Elders is that they are asked to come in as a one-off — to check off a box in the lesson. That should never be the case. It should be an actual lifestyle, teaching, or educational change or mind shift in the classroom or even in the school. When you invite an Elder to come into your classroom and school, it needs to be a welcoming place for them. You need to ensure that you're actively living your truth before you can work towards reconciliation.
 Honour the culture
Ensure you are honouring the culture by learning and living it every day. This will help the students emulate it. For me, it also meant going out to meet and invite leaders, working late, doing whatever I had to do to make sure our students were prepared learn and live the culture too.