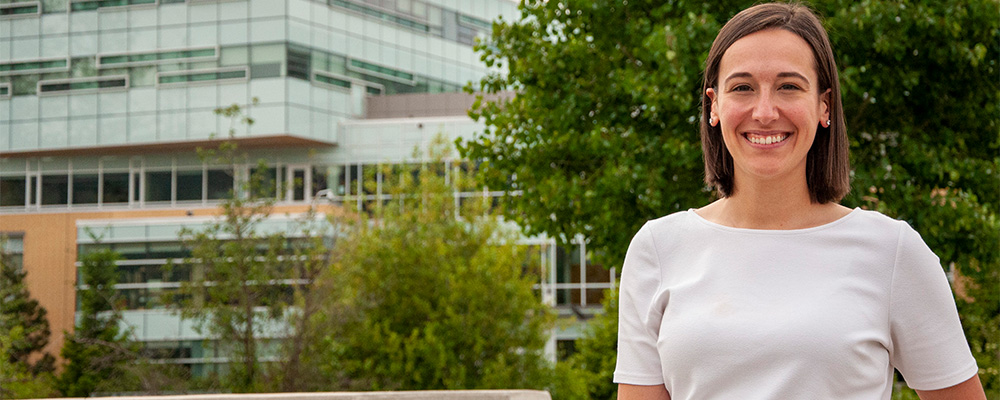 Congratulations Maxwell Cameron Award recipient and 2020/2021 Bachelor of Education graduate, Lindsay Ellis!
Throughout her time as the Okanagan School of Education, Lindsay has demonstrated leadership around diversity, including Indigenous and LGBTQ+, both on campus and during her field experiences.
Lindsay and Sean Hacker Teper were OSE's first student representatives on our SOGI Alliance. She helped to unite her peers during the 2020 Kelowna Pride Pedal – the first of many Kelowna Pride events that OSE hopes to participate in!
Here is what her nominator had to say:
"Lindsay served as co-facilitator for the OSE's SOGI Alliance and united her fellow students around several initiatives to advance pedagogy around diversity (e.g., educational zoom discussions, film night, guest speakers). In her practicum, Lindsay spearheaded a "Diversity Club" whose aim was to indigenize curriculum and enhance inclusivity among students. Lindsay is committed to advancing our professional understanding of how to better include and serve diverse cultural perspectives to enrich the learning experiences of students."
 Read more about Lindsay's practicum and her relationship with her mentor, Candace Sharko, in this story, Transformative teaching: Bringing equity and inclusion into the classroom.
Question and Answer with Session with Lindsay
What has your experience been like with the Okanagan School of Education?
I enjoyed the varied learning experiences, opportunities for collaboration, and collegial relationships developed with my professors and classmates while I was a student of the OSE.
What does receiving the award mean to you?
I am honoured to have been selected for the 2021 Maxwell Cameron Award. I have enjoyed collaboration with the Okanagan School of Education (OSE) SOGI Alliance, Okanagan Mission Secondary School Diversity Club, and the School District #23 Indigenous Education Program. Through these fruitful partnerships, we have celebrated the diversity in our schools and communities, helped advocate for historically marginalized populations, and provided learning opportunities in schools that mirror students' identities and values.
Why did you decide to enter the field of teaching?
I chose to become a teacher because I love and believe in the next generation of change-makers. Being around kids and students energizes me, encourages me to think about things through different lenses, and causes me to constantly smile and laugh. I feel so lucky to spend everyday with kids.
About the Maxwell Cameron Award
The Maxwell A. Cameron Award is given annually by the British Columbia Teachers' Federation (BCTF) to students completing the final year of the Bachelor of Education degree in elementary and secondary school teaching. The recipients of the award are those students who are considered to be outstanding students in the graduating class who have initiated, worked, or participated in a project that created positive change globally or in their local community, and or, been actively involved in issues related to poverty, LGBTQ rights, women's rights, antiracism, peace, global or environmental issues.
The award is named after Maxwell Cameron who headed the Department of Education at UBC in the mid-1940s. Prior to that, he was on staff as an associate professor and director of UBC's summer school.