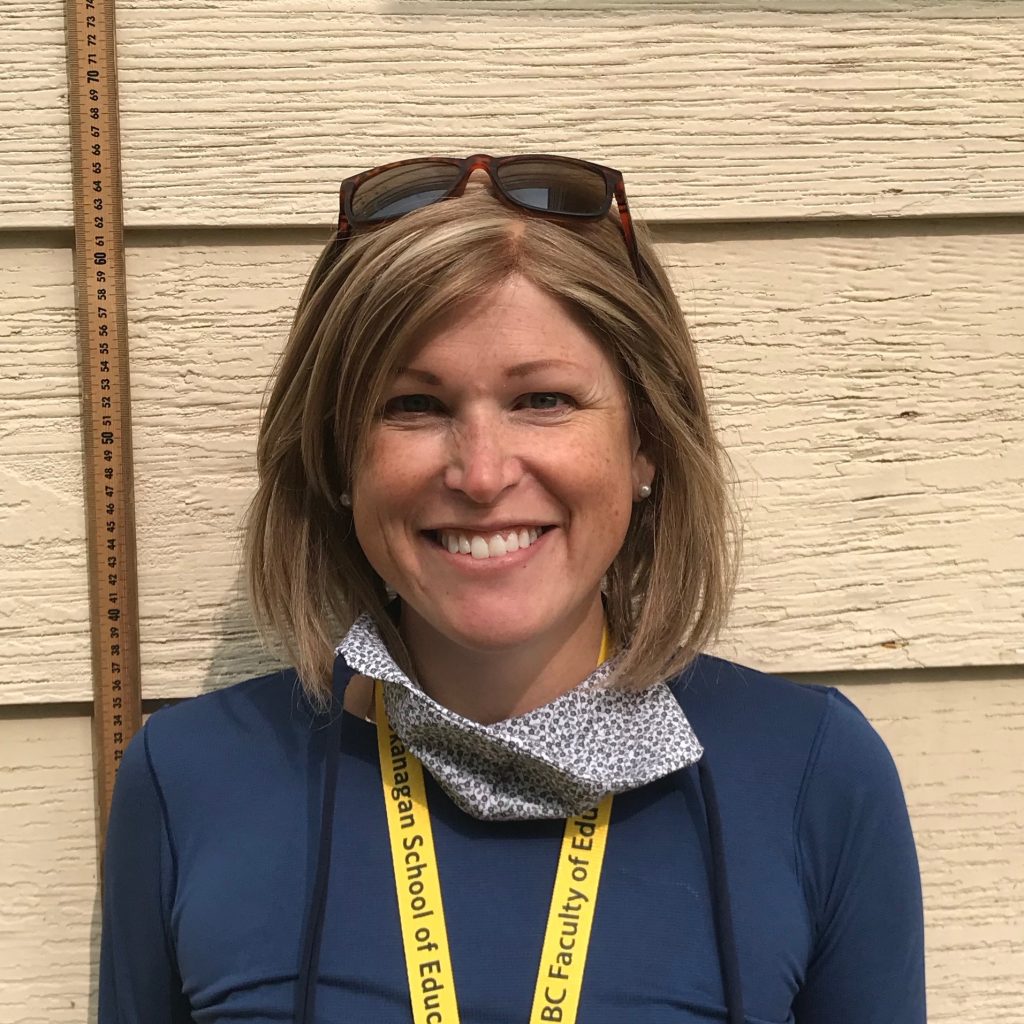 Each year, UBC Okanagan faculties award a student with the University of BC Medal for the Head of Graduating Class. In the Bachelor of Education program, this award is presented to the top student based on their academic performance throughout their program.
The Okanagan School of Education is pleased to announce that this year's 2021 recipient, is Pattie Perkins!
"Pattie went way beyond the expectations for a novice teacher candidate. In addition to having her lessons planned and delivered exceptionally well, her teacher commented on more than one occasion that working with Pattie was more like team teaching than a [mentor teacher/teacher candidate] relationship."
While those that meet Perkins would say she is passionate about teaching and nature, those that know her well would say it's more than that – it's in her blood.
Perkins grew up surrounded by mountains and nature. She was born and raised in Revelstoke, B.C. and spent a few years in Canmore, Alberta. Her mother was an elementary school teacher for her entire career and so much of Perkin's early memories are filled with hanging out in classrooms and schools after-hours.  Her father's career as a naturalist and biologist with Parks Canada gave him many opportunities to teach others about, and share his love for, the natural world.
Upon graduating from high school, she traded the mountains for the ocean. She attended the University of Victoria (UVic), Victoria, B.C. and earned her Bachelor of Science with a major in Biology.  While at UVic she became increasingly interested and involved in the emerging movement to reunite children with nature. She spent much of her free time finding ways to participate in this worthy cause.
After the birth of her own children, she became even more passionate about the need to ensure that all children have access to nature and natural spaces.  While working at UVic in the field of forest and later academic administration, she became increasingly aware that she needed to find a way into the field of education. A family move from Victoria to the Shuswap in 2017 brought things into focus.
"I was close enough to commute to UBC's Okanagan campus, my partner was working from home and could manage the household and parenting duties that I would leave behind early in the morning, and my heart had decided that becoming a teacher was the path forward," says Perkins with a smile. "Luckily, the Okanagan School of Education agreed and I was thrilled to get an acceptance to the program."
Perkins started the Bachelor of Education program in September of 2019 and while she knew the program would be short, nothing could have prepared her for a pandemic making it even shorter.
"I made some wonderful friendships and connections early in the program, and by February of 2020 was already starting to feel sad that the end of the program, and my time with this amazing group of humans, was coming to an end.  How I underestimated how close that end would be!   By March 13, as we now know, it was over – our time together in person as a group had ended, and we would be online until the end of our coursework.  Having this experience shortened and changed at times felt sad (who would not want more time together?), but how lucky I feel that we were able to continue on.  Thanks to the hard work and dedication of our instructors and UBC staff, we picked up and carried on online.  This felt remarkably smooth on our end, but I know was the result of many long days, sleepless nights, and countless additional hours of work on the part of the OSE team!"
As a mature student, it had been more than a few years since her first undergraduate degree, and she wasn't sure what to expect.  Perkins felt the usual fears that many incoming students have: might not fit in, might not make friends and might not remember how to "do" school.
"Years ago I attended a professional development seminar through UVic where participants were encouraged to 'feel the fear and do it anyway', which is how I decided to proceed with my B.Ed.  I'm so glad that I did – I met classmates, instructors, mentor teachers, colleagues, students, and parents during my time at UBCO who have changed me forever," says Perkins.  "I met a group of people who are doing what they love and who have committed themselves to helping others to learn, to grow, to become who they are meant to be: I feel like I was given a gift being in this program.  To receive the Head of the Graduating Class Award and learn that the people I worked with felt that I made a contribution to their communities as well feels wonderful and I want to send my gratitude to all involved."
Perkin's journey is starting to come full circle now. She completed her practicum at South Canoe Elementary in Salmon Arm, home of SD83's Outdoor Learning Program, and has just started her Graduate Diploma in Education (GDE) in Place- and Nature-based Experiential Learning through Simon Fraser University.
"I was lucky to grow up with so much family support, with wonderful teachers, and to have had my love of learning nurtured," says Perkins. "I know how important it is for children to have someone who believes in them, who is willing to go that extra step, to encourage and support, and to help them in their journey of becoming who they want to become.  I am still on my own journey, and I feel so lucky that I have the chance to be a small part of encouraging students along theirs."
Congratulations to our 2021 Head of Graduating Class, Pattie Perkins!