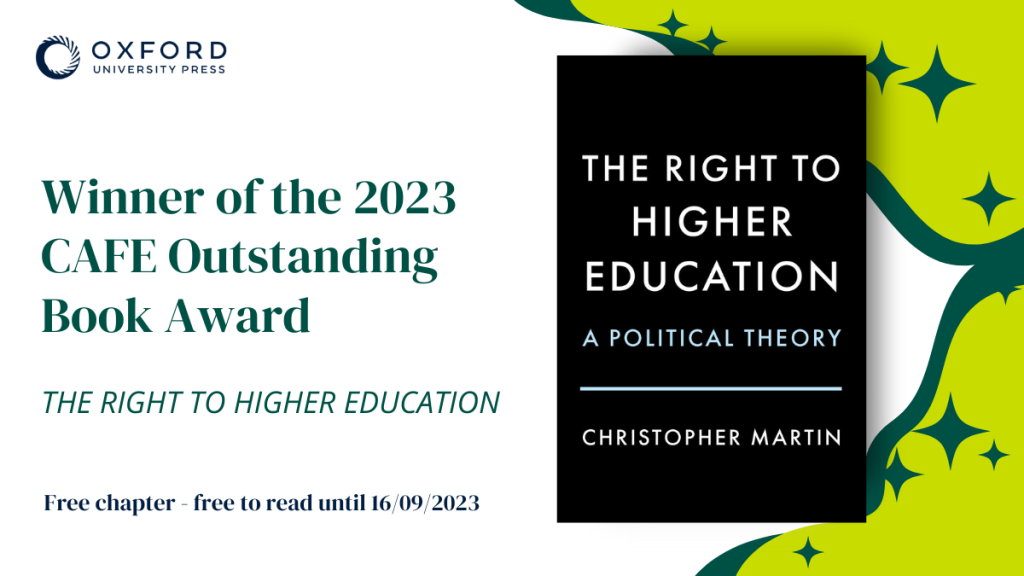 Dr. Christopher Martin's book, The Right to Higher Education: A Political Theory, was the 2023 winner of the The Canadian Association of Foundations of Education (CAFE) Outstanding Publication Award!
To celebrate this fantastic achievement, the introductory chapter of the book (digital version) is free to read until Sept. 16, 2023.
Abstract
"Is higher education a right, or a privilege? This author argues that all citizens in a free and open society should have an unconditional right to higher education. Such an education should be costless for the individual and open to everyone regardless of talent. A readiness and willingness to learn should be the only qualification. It should offer opportunities that benefit citizens with different interests and goals in life. And it should aim, as its foundational moral purpose, to help citizens from all walks of life live better, freer lives. Using concepts and ideas from liberal political philosophy the author argues that access to educational goods and services is something to which all citizens have a right over a full life. Such goods, it is argued, play a key role in helping citizens realize self-determined goals. Higher education should therefore be understood a basic social institution responsible for ensuring that all citizen
Q&A with Dr. Martin
Should a person's right to education end after high school? Dr. Christopher Martin's recent book, The Right to Higher Education sets out a novel account of the point and purpose of higher education, something that has been a controversial debate both in public settings and in policy.