Congratulations to our Maxwell Cameron Award recipient and 2021/2022 Bachelor of Education graduate, Winona Phillips — Mz. P!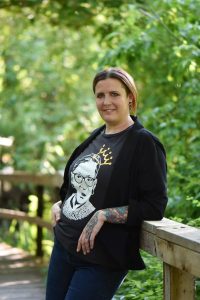 Born in British Columbia and raised in Kelowna, Mz. P graduated from the old Kelowna Secondary School in the '90s. Mz. P enjoys the water, snow and time outdoors! They have two teenage boys who them bring joy and new knowledge daily.
Throughout their time at the Okanagan School of Education, Mz. P demonstrated leadership in advocating and educating for diversity, inclusivity and equity — on campus, during field experiences and in the community.
During their final practicum, they volunteered their time with the school's diversity club and was a strong advocate for 2SLGBTQIA+ students. One activity that Mz. P regularly engaged in was making embroidery bracelets in specific pride flag patterns.
They also helped to inspire future educators by coming to campus to facilitate a workshop for teacher candidates on planning methods and strategies alongside their mentor teacher, Ryan Ennis.
Mz. P founded Free Parent Hugs Kelowna, under the guidance of Kelowna Pride, for 2SLGBTQIA youth and youth allies. With the organization, they created training materials for the initiative group start-up and facilitated training for those involved as well as ongoing new member training.
QUESTION AND ANSWER WITH SESSION WITH Mz. P
Why did you decide to enter the field of teaching?
In 2015, I entered the Masters of Education at UBC with the goal of researching social emotional curriculum. I quickly found that my peers, who were all active teachers aside from a couple of us on the research track, had very similar energy to me. I thought counseling and working with youth in that capacity was my path until I found teaching! My children and I have each struggled with education in our own ways, and I know that I can help those students who tend to not fit the mould. Every student should feel welcome and successful in their educational journey!
What was your experience like with the Okanagan School of Education?
I enjoyed every minute of my time in the Okanagan School of Education! The program was challenging. Teachers, especially new ones, are required to be flexible, quick thinking, multi-talented and reflective of our work and ourselves. We were blessed with incredible faculty members and field advisors who led us through the program with diligence and care. Most of all, I will remember the connections I have made with my peers as well as my outstanding mentors and generous peers.
What does receiving the award mean to you?
I continue to work with at-risk youth and community initiatives which is rewarding in and of itself. I am driven to connect with others in meaningful ways and to support those who may be lost or need an adult in their lives who cares for them. It is really neat to be recognized for something that comes naturally to me. It is an honour to have been nominated by individuals who are champions of social initiatives themselves and connected community members in Kelowna.
What advice do you have for incoming teacher candidates?
Trust the process, find your confidence, enjoy the ride, and seek out your Marigolds!
Congratulations Mz. P!
About the Maxwell Cameron Award
The Maxwell A. Cameron Award is given annually by the British Columbia Teachers' Federation (BCTF) to students completing the final year of the Bachelor of Education degree in elementary and secondary school teaching. The recipients of the award are those students who are considered to be outstanding students in the graduating class who have initiated, worked, or participated in a project that created positive change globally or in their local community, and or, been actively involved in issues related to poverty, LGBTQ rights, women's rights, antiracism, peace, global or environmental issues.
The award is named after Maxwell Cameron who headed the Department of Education at UBC in the mid-1940s. Prior to that, he was on staff as an associate professor and director of UBC's summer school.