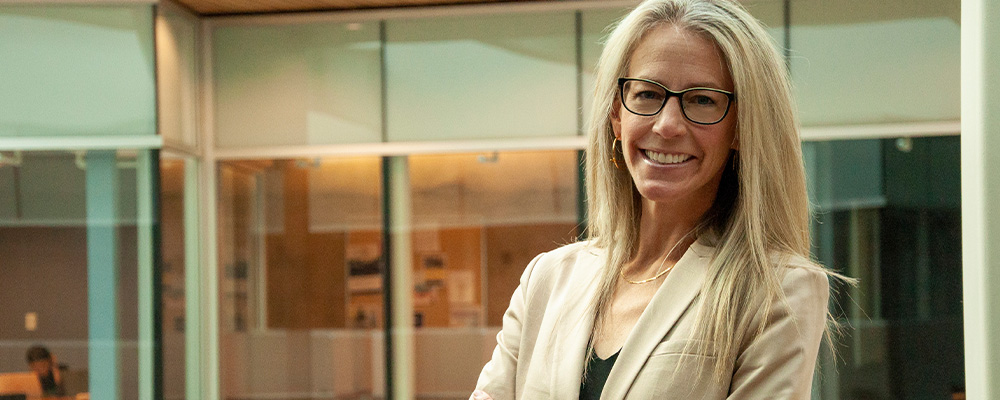 Congratulations to Liz Saville, our Doctoral Studies Outstanding Conference Presentation Award and Outstanding Doctoral-level Graduate Student Award recipient!
QUESTION AND ANSWER WITH SESSION WITH Liz
What does receiving these awards mean to you?
I am very grateful and honored to receive both of these awards. Receiving the Doctoral Studies Outstanding Conference Presentation encourages me in my efforts this year both locally and internationally to promote my PhD research and inspire others in the field to consider thinking about what it means to build and support equitable cultures of teaching and learning in STEM classrooms.
Receiving the Outstanding Doctoral-Level Graduate Student Award further encourages me in my focus this year on sustained engagement with coursework and PhD research and I am thankful for the opportunities I have been given throughout the year to contribute to the overall work of the Okanagan School of Education (OSE).
What has your experience been like with the Okanagan School of Education?
The best word that I can think of to use to describe my experiences with the Okanagan School of Education (OSE) is refractive. Stick with me through this science analogy –  in physics, refraction occurs when the direction of light rays are changed as they speed up or slow down as a result of moving from a medium of one density to a medium of another density. Throughout my Master's and PhD study with the OSE I have been introduced to new ways of thinking, new people, new research, and new opportunities – all of which have been provided to me by the OSE and have acted as significant new mediums that either slowed me down to really dig in or sent me speeding off with new ideas and energy – each one intentionally bending my trajectory of thinking and course of action both in my teaching contexts and in my graduate work. I am very grateful for the ways in which the OSE has supported my continued growth as an educator and researcher.
What is your research project?
The learning cultures students experience in secondary science, technology, engineering and math (STEM) classrooms establish and sustain conditions for students to develop conceptions about who can do STEM and who belongs in STEM communities. That feeling of "I can do STEM and I belong in STEM communities" is called having a STEM identity.  It is well understood that historical western STEM education has been socially, politically and culturally informed and that seeing oneself as a rightful member of STEM communities may be at odds with diverse understandings of what success looks like in STEM. A noted lack of women, minorities and persons with disabilities in STEM programs and careers related to physics, engineering, technology and computer science suggests continued urgency in exploring why some students remain excluded.
In my PhD research, I aim to capture and analyze narrative portraits (stories) of STEM identity formation from a diverse group of secondary students. These portraits will explore what students understand as their STEM identity and the forces, factors and conditions that contribute to forming, maintaining and also challenging what they think it means to be a STEM person. I'm particularly curious about the ways that students navigate STEM identity alongside their cultural, racial and gendered identities. It is my hope that these portraits might offer insights for educators in building equitable learning cultures that recognize, challenge and support a diversity of student STEM identities.
Why did you choose that topic?
Before returning to graduate school I taught K-12 STEM courses and about STEM education for over 20 years at the high school, college and university level and what I have enjoyed most about teaching in these contexts is helping students see themselves as confident learners and teachers of STEM subjects. From my experience, I have had many students over the years come into my math, science, or STEM education classes with decreased levels of STEM identity. For example, they say things like "I'm just not a math person" and I'm always looking for ways in which I can create classroom cultures that support the equitable construction of STEM identity for all diversities of students. It is my hope that the portraits developed through this research might illuminate ways in which STEM learning cultures have best supported equitable STEM identity construction. It is anticipated that findings will contribute to knowledge and practices of STEM educators in recognizing the importance of STEM identities, the diversity of these identities, and how to create conditions for a multitude of STEM identities to thrive in classrooms.
What advice do you have for future graduate students?
Come into your graduate programs at the OSE with a receptivity to growth, challenge and opportunity and you will be rewarded.  Take advantage of all that the OSE has to offer you. If you do – you will find yourself growing in your ways of thinking, being and doing with every course you take, in your interactions with OSE faculty and staff and through the research and learning opportunities that are available to you as a graduate student.
Graduate Supervisor: Dr. Sabre Cherkowski