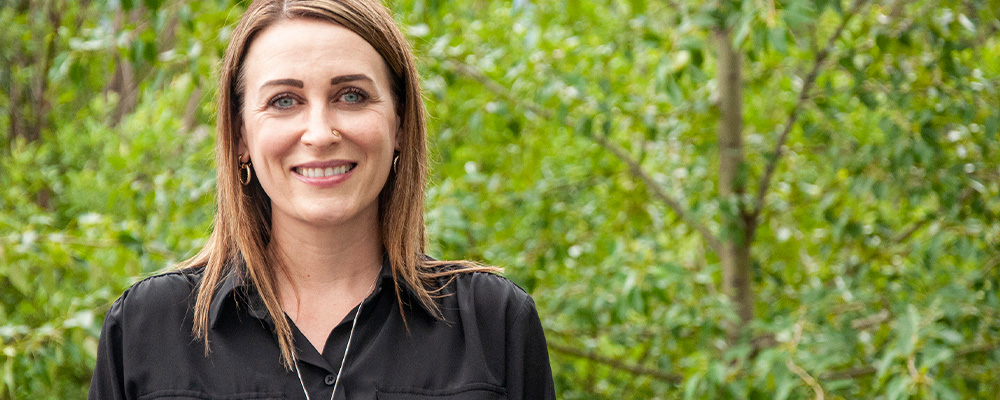 Congratulations to our Sharon McCoubrey recipient and 2020/2021 Bachelor of Education graduate, Kristy Grinde!
With her Bachelor of Fine Arts (Virtual Arts) and a clear passion for creativity, Kristy is an excellent recipient for the Sharon McCoubrey award. This is what her nominator had to say:
"Kristy uses her knowledge and passion to inspire student creativity throughout the learning day. During her candidacy field experience, Kristy developed innovative rich tasks for her Grade One students such as a playful exploration of color (using paints!) and constructing community buildings using 'loose parts'. She also effectively uses visual art to represent her own emerging ideas about pedagogy and literacy learning."
Question and Answer with Session with Kristy
What has your experience been like with the Okanagan School of Education?
My experience at OSE was shaped by continuous reflection, encouragement, community, and moments of learning from which I propelled my pedagogy. What will always stand out to me was the relationship fostered with my faculty advisor Anne MacLean and my mentors. Their attention to the milestones in my education were heartwarming, thoughtful, and genuine. Receiving my teacher plaque with my name on it, and the feeling of pride that brought forth in all of us present is something that I will cherish forever.
What does receiving the award mean to you?
I am grateful and thankful for nomination to receive the Sharon McCoubrey award. I feel incredibly honoured and excited. I believe that Art is a catalyst for self-esteem, belonging, and connection. Art has taught me to embrace mistakes, believe in myself, and to experiment. I am blessed to be able to share the love of Art with young learners.
Why did you decide to enter the field of teaching?
I decided to become a teacher because I believe that it is important to choose a career that gives back to the community. I feel that teaching is one of those careers. Education has been an empowering contribution in my life. I feel the happiest when I am learning and growing, and I chose to teach so I can learn and grow with students every day.  I have had many amazing teachers in my life that I will always remember. I aspire to be that teacher for students.
About the Sharon McCoubrey Award
Associate Professor Emeritus Sharon McCoubrey created the award to be presented to a Bachelor of Education student who has demonstrated leadership and passion for creativity with a commitment to advancing the teaching of visual arts in elementary schools.