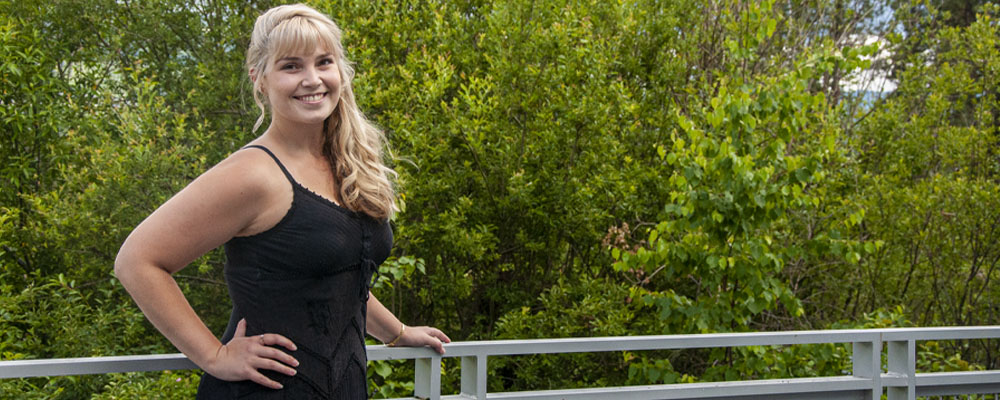 Congratulations to the Head of Graduating Class recipient Alyssa Pembleton!
Question and Answer Session with Alyssa
What does receiving the award mean to you?
Being the recipient of the Head of Graduating Class Award represents the relationships I feel fortunate to have built while learning alongside OSE professors, colleagues, mentor teachers, and above all else, the students during my practicum placements at Charles Bloom Secondary and Rutland Senior Secondary. Being considered for and then receiving the award is a tribute to the outstanding educators who continue to inspire me to develop my very best practice. As a life-long learner, practicing and nurturing growth mindset is an important area of focus. Therefore, I aspire to mentor and learn from future teacher candidates.
What was your experience like at the Okanagan School of Education
Looking back on the program, I appreciate the diverse skills that can be gleaned from each professor's practice and personality. I did not envision so many outstanding experiences having such a significant impact on shaping my identity and the energy I infuse in my practice. For instance, on the first day of the program, IndigenEYEZ shared two phrases with our class, "creating space" and "recognizing the way people show up". These ideas instantly became key mantras underpinning my growth and voice throughout the program and especially now in my practice as an educator with School District 23-Central Okanagan. Intent on making my learning visible, the OSE provided rich spaces to contribute critical and creative reflections for shared understanding. For example, after being invited to explore the beauty of place-based learning in the communities of Hartley Bay and Haida Gwaii, I was confronted with the emotions of sharing in, and then sharing out, what can only be described as the most authentic and immersive form of being professionally loved. The moments that form this memory remind me to always be mindful of fostering a place for student-belonging in every educational sphere.
Why did you decide to enter the field of education?
My inspiration for becoming a teacher derives from the joys of learning in environments where I felt safe and supported by my educators. As a new teacher, I am excited to continue co-creating a sense of community and a safe space for humour, curiosity, playfulness, creativity, critical thinking, and equity to flourish. Sharing my love of learning, and celebrating the learning of students, is integral. My vision is to interweave my evolving teaching style with opportunities for students to communicate their identity while practicing social intelligence and self-regulation strategies. I look forward to extending my knowledge of student growth and development while attending this year's summer institute with the OSE.