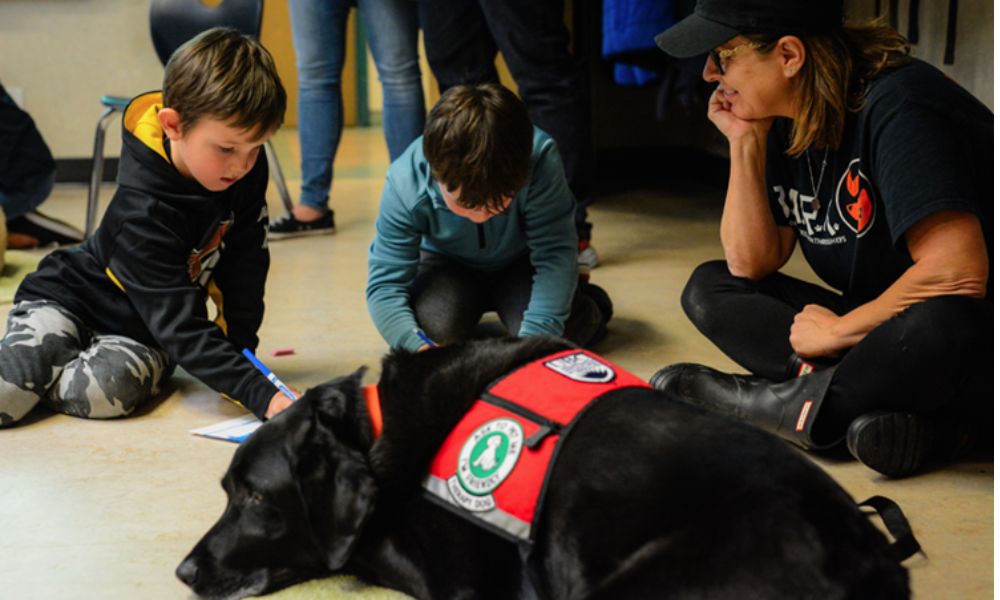 There was an excited buzz at Peter Greer Elementary as five sets of four paws and their human companions walked into Ann-Katrine Giroux's, teacher intern (BEd '23), second grade class.
The classroom's furry visitors, from UBC Okanagan's BARK (Building Academic Retention through K9's) program, had an important role to play in that day's lesson.
"We're in the middle of a social-emotional unit," explains Giroux. "We've had lessons in emotion recognition, so what is this emotion? How do you recognize it? If I feel something, what do I need?"
Bringing the BARK dogs to the classroom was an idea inspired by a Summer Institute French language course, La médiation animale: Découvertes et adaptations pragmatiques en milieux scolaires et en contextes socio-éducatifs (Animal mediation: Discoveries and pragmatic adaptations in schools and socio-educational contexts). Taught by Camille Rousseau, PhD candidate, the course highlighted the many social-emotional benefits of using therapy animals in the classroom.
"I was looking for opportunities to teach lessons in an out of the box way, and teaching with therapy animals wasn't something I had considered before," says Giroux. "Initially I thought it would be a good tool to have in my back pocket, but during the course I just knew I had to bring therapy dogs into my classroom."
While the course was online, Rousseau arranged for an in-person BARK session for her students.
"It was a very calming environment," says Giroux. "Until that moment, I hadn't realized how beneficial therapy dogs are to the social-emotional aspect of regulating children and adults. I felt first-hand how much calmer I was, and more concentrated on the teaching that was happening."
Rousseau explained that there are different mechanisms underpinning the impact of human-animal interactions on student learning.
"One hypothesis, the Biophilia Hypothesis, suggests that humans have a natural inclination to affiliate with life or life-like processes, including animals. This theory aligns with evolutionary psychological theory suggesting that this biophilic inclination is an adaptive trait dating back to hunter-gather times where we would take cues from the animals. For example, if the animals were resting, it would give us a sense of security and reassurance that there are no threats in our environment.
Other theories relate to motivation and learning, so human-animal interactions in classrooms can enhance learning and increase social emotional learning through a variety of different pathways. Animals can boost students' motivation, engagement, attention, self-regulation, stress coping, and social interactions, which in turn can enrich students' social-emotional development and learning."
During the session, Giroux had four activities planned for the students that would incorporate social awareness, self-management, empathy, responsible decision making and relationship-building.
Introductions, respect and boundaries
"The students will introduce themselves to the handler and dog, and learn how to meet a dog for the first-time. This includes asking the handler for consent before touching the dog."
Preferences and differences
"They are going to ask the handler about what the dog likes and draw themselves with the dog doing an activity. This will also show them that every dog is different — just like we are."
Body language
"They're going to look at the dogs body language and talk about how they recognize if the dog is happy, calm or anxious. They'll then relate this to how people may express different emotions in their body language."
Gratitude
"For the last activity, the students will draw a gratitude card for the dog and handler."
The session had rave reviews, with one second grader commenting, "I'd rather stay with the dogs for longer than go out to recess!"
For educators seeking opportunities to include animal therapy into a lesson, Rousseau recommends asking critical questions. Considering questions such as why do they want to integrate animals into their classroom? Can they, and their students, recognize indicators of animal stress in the species they want to work with? Are the voices of all stakeholders included and respected in the planning of this lesson?
"If they don't know the answers to these questions, they should try to reach out to a professional organization that has the appropriate knowledge, resources, and experience to help them plan and deliver the lesson. They also need to be aware of any student fears, allergies, and cultural sensitivities. Finally, they should ensure that they have the support of their school district, their school administration, and signed parental consent."
If bringing an animal into the classroom isn't a possibility, educators can also consider virtual options such as live webcams.