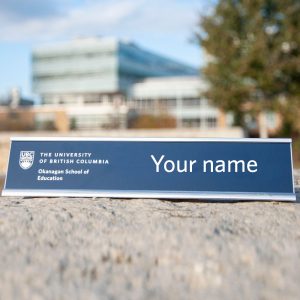 The Okanagan School of Education is offering alumni the opportunity to purchase a branded nameplate. Nameplate dimensions are 2"x10" in dark blue with white text.
Nameplates are $40, and will be available for purchase until end of day, October 5, 2023.
To order your nameplate:
Visit our online store
Add the nameplate to cart
Add in your preferred teacher name e.g. Mme Smith, Mr. C
Provide your personal information. Please note, the form will request your student number. If you recall your UBCO student number, you are welcome to add it in. If not, please provide any eight numbers.
Provide your payment information
We will follow-up with you for delivery information. We anticipate that nameplates will be able to be delivered in late November/early December.