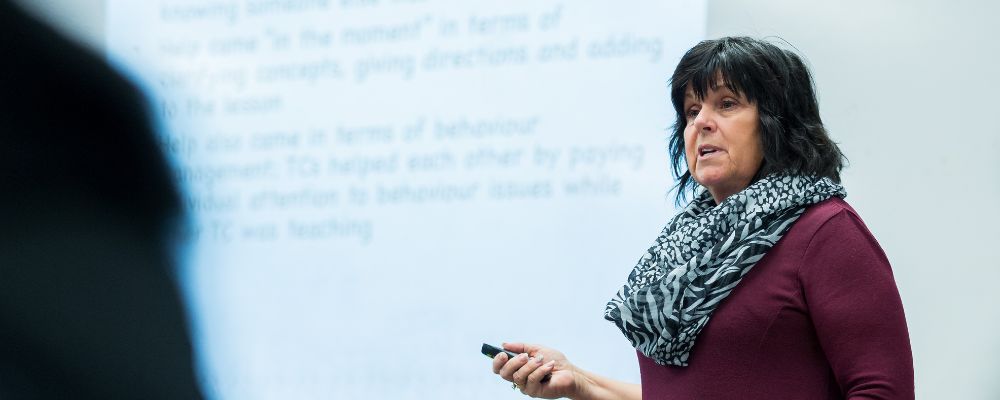 The Okanagan School of Education is proud to share that Dr. Wendy Klassen, Director of Undergraduate Programs, has received an Association of British Columbia Deans of Education (ABCDE) Teacher Educator Award. The award is presented to someone at the school or university level who has distinguished themselves in partnering with a teacher education program in B.C.
Dr. Klassen is an exceptional educator, mentor and scholar-practitioner. She has been teaching for more than 40 years, beginning her career in Richmond BC in School District 38. For the last 25 years, she has made an impact on the Okanagan campus — inspiring, supporting and mentoring hundreds of pre-service teachers, mentor teachers, graduate students and field advisors. In 2013, she became the Director of Undergraduate Programs (a role she still holds today), where she was instrumental in the redesign of the Bachelor of Education (B.Ed.) program, and ensured alignment with UBC Senate and the BC Teachers Council.
Dr. Klassen's focus on integrating and embedding Indigenous Education throughout the B.Ed. program is a crucial aspect of her leadership. Learning and unlearning are interwoven throughout all 16 months of learning, and the program begins and ends in ceremony. Dr. Klassen recognizes the importance of educators responding to the Truth and Reconciliation Commission (TRC) Calls to Action and how this shapes relationships between Indigenous and non-Indigenous peoples in Canada. She supported the development of the OSE Indigenous Education Council, a council that provides the Faculty with advice, recommendations, and guidance to enhance the program's academic and field education.
Dr. Klassen is also known for her teaching innovation, which involves teaching numeracy education classes in-situ at local elementary schools. Her learner-centered approach focuses on alleviating math anxiety for teacher candidates, while they learn "about" teaching math "through" teaching math. This in-situ pedagogical innovation is a key feature of the B.Ed. program and involves ongoing organization, care, and attention with teachers and school administration and elementary students.
The award was announced during the ABCDE's Teacher Education Round Table Thursday, April 27 at Thompson Rivers University.