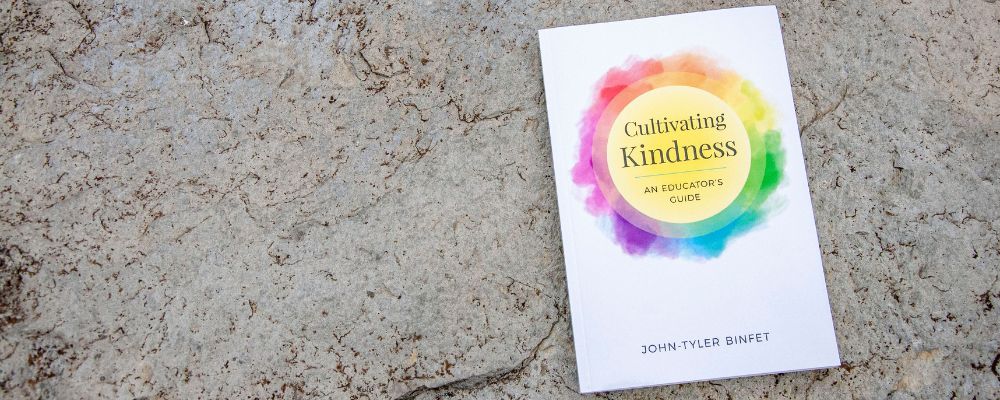 Dr. John-Tyler Binfet, associate professor, has surveyed and interviewed more than 3,000 children and adolescents from kindergarten to post-secondary gathering their perspectives on kindness. Hot off the presses, Dr. Binfet's new book Cultivating Kindness: An Educators Guide is a research-driven guide to all things kindness in schools.
"This book is a resource for educators who want to introduce kindness in their classrooms or schools and are seeking ideas and strategies to support kindness in students," says Dr. Binfet. "I hope it can serve as a guide for well-being initiatives for students, and for educators, to shift the climate in classrooms, to foster kindness among people and showcase the good that people are doing."
The book includes a kindness checklist for schools to assess how kind they are and practical scenarios to help teachers challenge students to consider kindness. In addition, there is a repository of kindness resources to support the continued kindness education of readers.
What inspired you to write the book?
After nearly 10 years of research and asking almost 4,000 students about kindness, I felt it was time to glue it all together and tell the story of what I've learned from students about being kind.
I didn't want another adult interpretation of kindness. I wanted to honour the students' voices and their experience around being kind; especially after learning that, from their perspective, it takes a lot of bravery to be kind. For some students, it doesn't unfold quickly and easily in a school setting and they need some support. They need some structure and that's where teachers come in. They can really be a guide — a kindness coach.
While your book is called an educator's guide, are there others who may benefit from reading it?
This book would be an excellent resource for anyone that works or volunteers with children or youth in any capacity. It would also be appealing for parents and guardians who are interested in guiding kindness within their children and within the family structure. For example, just as they may ask "Have you done your chores this week?" I want them to ask, "Have you done your kind acts?"
We know that doing three kind acts a week is a formula for bolstering children's wellbeing. Three acts will help children feel better about themselves and about the people around them.
Could you share some examples of how students you've interviewed have been kind?
There have been a few examples over the years that have stopped me in my tracks. Especially with adolescents because they, unfortunately, have the stereotype of being mired in conflict and ego-driven. I have had students in middle school who have said "my act of kindness is a quiet one where I stop talking when other people are."
I have had another student tell me that they don't talk about their mother around another student, because that student's mother had passed away the previous year from cancer. This student restricts their speech because they know if they don't, they'll wound a friend.
As we're approaching World Kindness Day (Nov. 13), how do you enact kindness?
I try to walk the talk with my research and commit to at least three kind acts a week. For example, one act I like to do in a drive-thru is pay for the person's order behind me. However, my favourite acts of kindness are the ones where I can specifically craft the act for the person. I love the unexpected nature of it, and I try to be stealth in how I deliver my kind act.
Learn more about the book and how to purchase a copy at utorontopress.com/9781487525026/cultivating-kindness