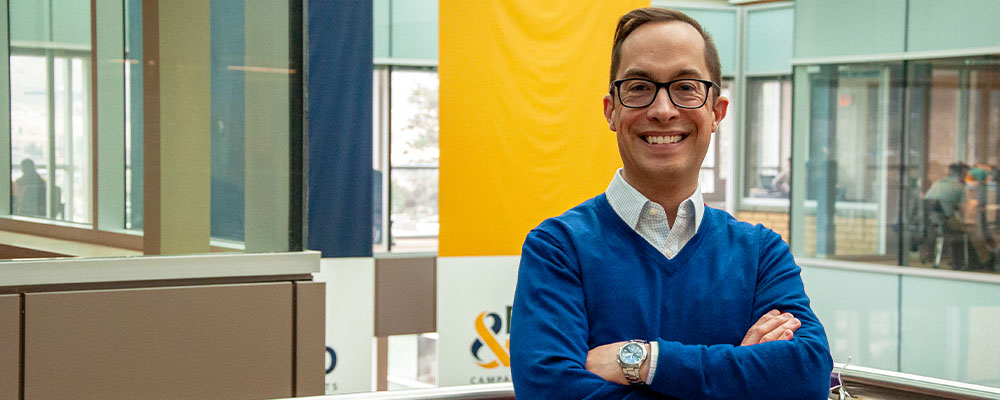 Congratulations to Michael Landry, our Vicki Green Graduate Award recipient!
The Vicki Green Graduate Award recipient is selected based on how their research will implement contemplative, transformational, imaginative or creative interdisciplinary understandings in sustainability for children, youth or teachers.
QUESTION AND ANSWER WITH SESSION WITH MICHAEL
What does receiving the award mean to you
It is an honour to receive the Dr. Vicki Green Award. As a PhD candidate, nature lover, and angler, it is especially meaningful to be acknowledged for my work and to see that the awards committee recognizes the value of my research to the field of education and the sustainability of the local community.
What has your experience been like with the Okanagan School of Education?
I joined the Okanagan School of Education as a student enrolled in the (Individualized) Interdisciplinary Graduate Studies program in 2019. Right away, I felt like a welcomed and valued member of the learning community. I have worked as a sessional lecturer in the English Foundation Program and as a teaching assistant in the English Foundation Program and B.Ed. program. I have also served as a research assistant for several projects conducted at the Okanagan School of Education.
What is your research project?
The aim of the study is to uncover the relationship between intercultural communicative competence (ICC), local community and campus socialization by examining the inclusion of ICC learning incomes in an English Academic Program (EAP) course via an online module. The overarching research question for my study explores the relationship between ICC and learning English as an additional language in a post-secondary EAP setting and asks: How does the development of ICC relate to the development of overall EAL communicative competence in a post-secondary EAP program?
Why did you choose that topic?
Understanding the role ICC plays in the campus and community socialization of EAP students in Canada is one window into understanding if these students have an equitable educational experience. Consequently, my inquiry into the efficacy of ICC learning outcomes via an online module will likely help inform future teaching approaches, EAP programming, the professional development of faculty across campus, policies related to internationalization, the provision of services at Canadian post-secondary institutions, and the enhancement of local communities.
What advice do you have for future graduate students?
Getting the most from your graduate studies involves enjoying the process and celebrating the small victories and relationships you experience along the way. I also think it's important for students to pursue inquiry into topics they are passionate about. Having that intrinsic motivation really helps you learn from perceived setbacks and keep progressing through your program.
Graduate Supervisor: Dr. Scott Douglas