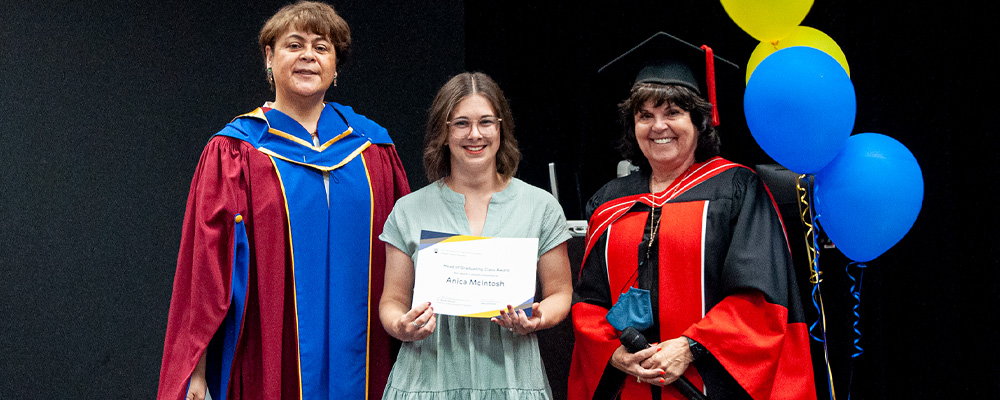 Each year, UBC Okanagan faculties award a student with the University of BC Medal for the Head of Graduating Class. In the Bachelor of Education (BEd) program, this award is presented to the top student based on their academic performance throughout their program.
The Okanagan School of Education is pleased to announce that this year's 2022 recipient, is Anica McIntosh!
"Anica displayed characteristics of a true scholar-practitioner. She was actively engaging in furthering her professional growth throughout the practicum. While being respectful of her mentors and intern colleagues, she was able to introduce current trends in Math education (based on the work of Dr. Peter Liljedahl) and lead the Science department in reporting student learning by tracking outcomes and curricular competencies."
McIntosh is part of an exceptionally unique graduating class as, aside from their field experiences, they completed their BEd entirely online.
"There are so many people that I will be meeting them for the first time at graduation," says McIntosh. "It was an unusual experience as teaching is a career path that requires connections. Being online really taught me how important engagement is."
McIntosh had long been drawn to teaching. She has taught dance for 11 years, is a rowing coach and was previously a cross-country skiing coach.
"I found I had a passion for being a positive influence in a child's life," smiles McIntosh. "Whether that was helping them find confidence in themselves or being the reason they showed up that day."
While it might seem as though pursuing her teaching degree after receiving her Bachelor of Science was a natural next step, it wasn't a career at the top of her list.
"I worked in various science related positions after graduating, and found myself at a point where I realized I didn't want to work for the sake of working. That's when I decided that teaching would combine a lot of things I enjoy — science, learning and making connections."
Still, it wasn't until McIntosh's first practicum that she felt confident about her decision.
"I had my first practicum experience in a grade six classroom, and I was intending on becoming a high-school science teacher so I was terrified," laughs McIntosh. "They were so young and they so eager to tell me everything about themselves within the first minutes. It was by the end of that experience that I truly knew I made the right choice."
This award has an extra special connection for McIntosh as her father had received the same award when he went through the program approximately ten years ago.
For future BEd students, McIntosh encourages you to have trust.
"Trust your ideas! It can be an overwhelming situation where you're lesson planning with educators who have decades of experience, but we've been learning the newest techniques and theories in teaching. Trust that you have meaningful ideas to bring forward."