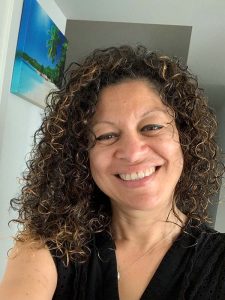 After working in journalism for more than two decades, Alma Betancourth, MEd '22, stumbled upon a new career path.
"I worked in television and freelanced for different publications, in addition to running my own bilingual (English/Spanish) online publication for eight years and I loved it, but roughly six years ago I became very passionate about a new line of work," says Betancourth. "I started working in the employment sector; specifically with non-profit agencies working with job seekers."
Betancourth is currently a Manager of Employment Initiatives, a position that sees her working with both sides: job seekers from local communities, and employers who are looking for good candidates. She guides the process for both sides, providing them with resources, information, training, and even one-on-one coaching, to give job seekers a better chance at succeeding and staying on their job.
"When I switched to the employment sector, I felt I was ill-prepared and didn't have many tools that would be necessary to ensure my clients' success. I felt that I needed to further my education and get more tools to be better in doing my work."
Betancourth researched University options for her master's across Canada, including Ontario where she lived, and she found she kept coming back to the Master of Education offered by the Okanagan School of Education.
"The program had the three elements I felt would be best applied to my work: a focus on diversity issues, digital learning — which was important to me coming from broadcast and online journalism — and leadership," says Betancourth. "I felt those three elements would be the best formula to further the work I wanted to do as an Employment Counsellor and Trainer/Facilitator, and also design better programs and curriculum for our job seekers."
For her capstone project, Pathway to Employment for Internationally-Trained Professional Women, Betancourth designed a hybrid program to guide internationally trained professional women, who arrive in Canada as new immigrants, to best strategize their job search for suitable employment. The program includes a practicum component with an employer in their field to assist with creating connections and enhancing their learning.
"I had wanted to work on something that I could eventually implement in a more practical way," says Betancourth. "It really helped that I was clear on what the project would be from the get-go, because that made my research very focused and intentional."
Her research was inspired by her career and the women she interacted with. Working in the employment sector exposed Betancourth to the needs of internationally-trained professional women and the challenges they were facing in finding employment after immigrating to Canada.
"It pained me to see how qualified and experienced these women were, and even if they were the ones who had better qualifications compared to their spouse — if they were immigrating as a couple — there were little or no opportunities for them," says Betancourth.
Now with her master's degree completed, Betancourth is on to a new masters challenge.
"I'm on a quest to master the art of dancing Bachata," says Betancourth with a smile. "As a Latina, I've always danced, but just knowing the basics. I started taking lessons in Toronto a couple of years back, but when I moved to Kelowna, I found an amazing group at the Rotary Centre and took lessons with them. They introduced me to Kizomba and now I'm back in Toronto ready to continue to learn both."
She can also now enjoy a little more time hiking with her dog, Nacho, and cooking for her sons, Fabo and Jalen (when they're home!).
For those interested in pursuing their Master of Education, Betancourth shared a few wise words of wisdom.
"Take your time in taking the courses. It is very difficult to work full time, have a family, and take courses in the very little free time most of us got to have. Time management is crucial, and other fun things will have to be sacrificed for a little while in order to do this. My most important nugget of wisdom, read the fine print when you fill out those financial forms the first weeks when you start the program: I had to pay four installments all at once two weeks before graduating because I didn't read the fine print."