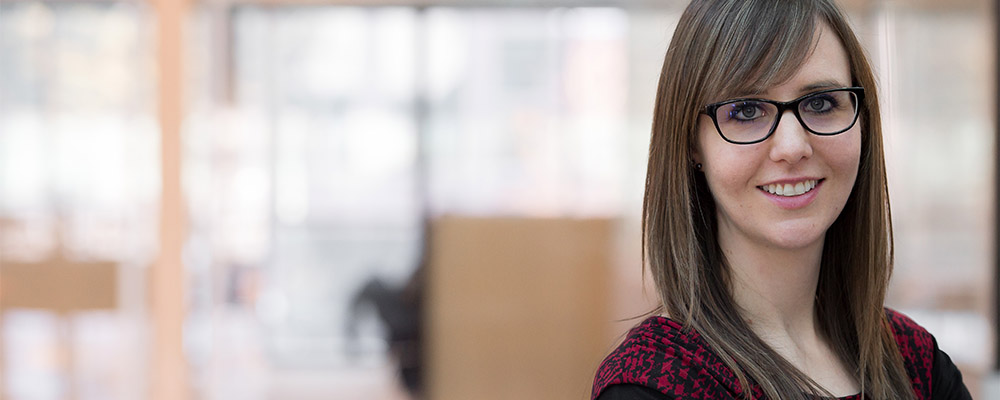 Today Lindsay Cox, Graduate and Post-Baccalaureate Programs Assistant, is celebrating 15 years of working at UBC Okanagan. Many graduate and post-baccalaureate students will be familiar with Lindsay. She is often the first point of contact for prospective and current students – and one of the many people that help make the School a unique experience.
"I assist grad and post-bac students from the time before they even start their application until the time they graduate," says Lindsay. "As a smaller campus, we are able to really connect with each individual student, and I think students are quite surprised by the level of support they receive and the timely responses to their questions.  They typically wait no longer than a day to hear from me."
***
Lindsay grew up in a small rural town in northern Alberta. She spent a lot of time in the outdoors, hiking and enjoying nature; but when she had an opportunity to leave Alberta to pursue her post-secondary education – she took it! Family vacations in British Columbia led her to believe from a very young age, that she belonged in B.C.  She chose the ocean and rain over flat plains and cold winters. Lindsay attended the University of Victoria, Victoria, B.C., and received her Bachelor of Arts in Psychology. A degree likely inspired by her dad, Geoff Peruniak, who was a Professor of Psychology at Athabasca University.
After university, Lindsay followed her partner back to the Okanagan where he grew up.  Neither of them had jobs at the time of the move, but a few months later her partner soon obtained a teaching position at his old elementary school. She started a position at a real estate appraisal company, but found that the fit wasn't quite for her as it lacked human interaction. Luckily, UBCO was having a huge hiring boom and she decided to apply. She started her first job on campus in the Student Recruitment and Advising Office.
"Initially when I was pursuing my BA, I had thought about becoming a counsellor as I wanted to help people and so I thought the Recruitment and Advising Office would be a great opportunity to gain familiarity with the campus and its community," says Lindsay.
After nearly two years of working in the Student Recruitment and Advising Office, Lindsay transitioned into several different positions within the Faculty of Education before settling into her current role as Graduate and Post-Baccalaureate Programs Assistant in the Okanagan School of Education (formally the Faculty of Education).  Since starting at the School, Lindsay has worked with six Graduate Program Directors and five Post-Baccalaureate Directors.
"Aside from starting to think maybe it's me that's causing the shift in directors," she says jokingly. "I think the changes in leadership are part of the reason why my position never feels stagnant. Each new director brings different insights and agendas, and as a result, new programs and courses are developed to help improve the student experience.  It's exciting.  I'm never bored!"
In addition to changes in program directors, Lindsay has witnessed the Okanagan School of Education evolve. She began her career at the School back when Dr. Robert Campbell was Dean in 2009. She was part of the original team that saw the Faculties of Education at UBC Vancouver and UBC Okanagan join to become a single Faculty in 2018. She has also assisted with the creation of many new programs offered by the School such as the Interdisciplinary Studies in Contemporary Education Certificate/Diploma program and most recently, the new Master of Education with coursework only pathway.
"As much as I've seen the School change and grow, many of the faculty members here would say the same about me. Since starting at the School, I have gotten married, adopted a Mexican rescue dog with the help of Dr. Binfet, and have had two children," says Lindsay. "A really special memory I'll always have is when my Dad taught a course for our Summer Institute in Education back in 2011. As he is no longer with us, I will remember it fondly – carpooling together and working alongside him in a different capacity."
If anyone is looking for a way to congratulate her on 15 years, Lindsay enjoys wine, Skittles and Big Turk chocolate bars.