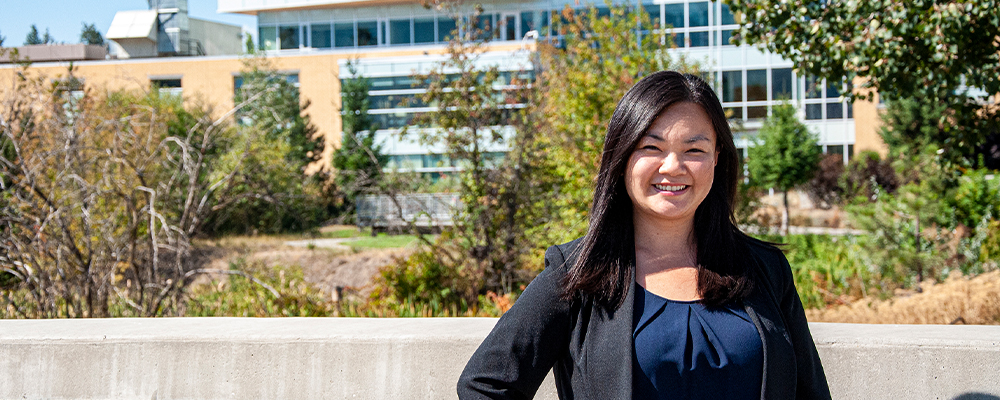 The Okanagan School of Education is pleased to welcome Dr. Jessica Chan (Pronouns: she/her/hers) to the faculty in the position of Assistant Professor in Language Arts and Literacy Education.
Dr. Chan is a reading researcher and teacher educator committed to advancing the science of reading for language diverse learners. The goal of her research program is to understand how language and literacy develops in diverse learners including children from different cultural and linguistic backgrounds, and children with and without learning disabilities. Her current research investigates the relationship between language, reading, and mathematics development in school-aged children.
"I am excited to join the Okanagan School of Education because of the faculty's commitment to building and fostering community-based partnerships in diverse educational contexts," says Dr. Chan. "I look forward to contributing to the development of scholar-practitioners in the areas of language and literacy development. Specifically, my program in reading research leverages interdisciplinary approaches to improve educational outcomes for all learners."
Dr. Chan earned her Ph.D. and M.Ed. in the Faculty of Education at Queen's University at Kingston in the areas of language and literacy education, and cognition and learning, and a Bachelor of Science (Hons.) in Psychology and Employment Relations at the University of Toronto.
She is joining us from the Department of Communication Sciences and Disorders, University of South Carolina where she completed a postdoctoral fellowship funded by the Social Sciences and Humanities Research Council (SSHRC).
Dr. Chan is eager to learn about the histories and traditions of the Syilx Okanagan Peoples, and the history of Kelowna. She looks forward to creating community connections, and getting outside to enjoy the natural beauty of the Okanagan by exploring new hiking trails.
She will be teaching in our Bachelor of Education program starting in January, and will be teaching a graduate-level winter term 2 course. Her graduate course, EDUC 517: Perspectives on Reading Foundations, focuses on the role of the educator in supporting language and literacy development for learners across educational contexts.