Dr. Christopher Martin, Associate Professor, is hosting a Canadian Philosophy of Education Society seminar. 
Dr. Lana Parker, Assistant Professor, Faculty of Education, University of Windsor will present on The Skin as Seen: Thinking Through Racialised Subjectivities with Levinas. It would be impossible, witnessing the flat affect of the police kneeling on his body, not to ask: Was George Floyd seen as human? From a Levinasian perspective, the interaction between two people is an ethical encounter, a face-to-face interaction that calls the subject into question and renders them vulnerable to the ritual of rupture. But what if your embodiment renders you, in the moment of encounter, less than human? How can we bring the imperative of pre-ontological responsibility to bear on the present moment, fractured as we are in our understandings of embodiment and the hauntings of history? In this talk, Dr. Parker hopes to respond to the previous question by articulating the problems and possibilities of Levinas's thought in conversation with urgent considerations of racially-bodied Others. To begin, she will briefly explore critiques of Levinas's Eurocentrism. Then, drawing on the concept of incarnate historiography, she examines the difficulties of skin as "seen." Next, she will elaborate on the prospect of how diachronous time affords a second register that takes seriously the historical experience of pain and oppression as responsibility. Finally, she will argue that the recognition of responsibility is essential to education, proposing pedagogy that preserves alterity and makes space for the new.
Thursday, November 19
9:00 a.m. to 10:15 a.m. (pacific time)
Via Zoom
The event is open for all to attend. While attendance is free, you still need to register to receive the Zoom link.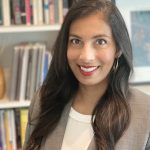 About the Speaker
Dr. Lana Parker is an Assistant Professor of Education at the Faculty of Education at the University of Windsor. Her research explores the intersection of education, ethics, and democracy, with a particular focus on language and meaning-making. She is currently working on a SSHRC-funded project investigating the responsibilities and potential of literacy education in the post-truth era.
About the Canadian Philosophy of Education Society Seminar Series
The Canadian Philosophy of Education Seminar Series aims to create a space to support in-progress work in the philosophy of education, provide opportunities for pre-tenure/early career and graduate students, and contribute to the cultivation of scholarly community. Anyone working at the intersections of philosophy and education are welcome to contribute to the series.
If you are interested in presenting a paper in future events, contact Dr. Christopher Martin at christopher.martin@ubc.ca.