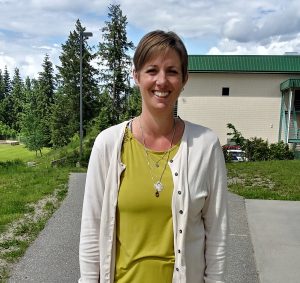 Congratulations to our Master of Education Outstanding Project recipient, Morgen MacDonald!
Morgen attended the Okanagan School of Education for her Bachelor of Education degree (2014), and we were delighted to see her again as she pursued her Master of Education!
"It was nice to work with some professors again on a deeper level and to meet new professors who shared similar passions," says Morgen. "I did both online and on-campus classes and found both to be rewarding opportunities for collegial discussion and learning."
Question and Answer session with Morgen MacDonald
What receiving the award means to you?
Receiving this award is an honour, to be recognized for writing about something you are so passionate about and for all the dedication, time and hard work that goes into a Master's Capstone Project is really flattering. I am not alone in outstanding work though, I had classes with many colleagues who were all doing some really interesting projects that they were really passionate about.
What was your research project?
My project is a literature review of Mindfulness in the Classroom including a unit plan that is suitable for all grades to help educators get started with mindfulness. As a mindfulness practitioner and educator, I felt it was important to bring to light the many ways being a mindful teacher can affect your classroom. Our students are our mirrors, with a mindful, calm, openness teachers can model for students what regulated learning and being looks, sounds and feels like. In my paper, I discuss not only the useful aspects of mindfulness in the classroom but also some red flags to watch out for when looking to bring mindfulness into your own class. I truly believe that mindfulness is best taught by someone who has experience with it themselves. So, in the educational setting, mindfulness starts with teachers.
Why did you choose that project?
I have been passionate about mindfulness for many years. This started with my own personal journey, which is discussed in my paper. Along this journey, I brought some mindfulness practices to my classroom and witnessed a dramatic change in my students. From there, my personal research began which slowly grew into something I wanted to pursue on a more academic level. I was lucky enough to get connected with Dr. Karen Ragoonaden early on in my Master's journey, as a supervisor who shares my interest in mindfulness.
What advice do you have for future graduate students?
My advice for future graduate students would be to find something you are passionate about. With every course, you take look for ways the learning connects to your passion. You will be pleasantly surprised to find that no matter the course there will be a link. In this way, you are constantly gathering sources for your research and also working through your paper with each course. This will help you to narrow down your topic, discover what specifically really interests you and find those colleagues and professors who share your passion. Don't be afraid to take a risk, ask questions and dig deeper into topics or courses that interest you. The professors are so amazing at sharing their passions that it is well worth the time and effort to reach out to them for support and ideas.
Supervisor: Dr. Karen Ragoonaden