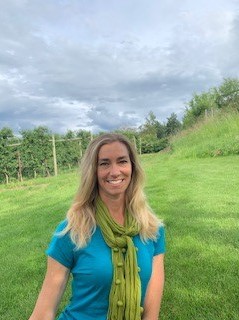 Congratulations to our Doctoral Studies Outstanding Conference Presentation recipient, Darlene Loland!
Darlene has shown great initiative for presenting her emerging scholarship for her doctoral studies at peer-reviewed venues such as the American Educational Research Association and the Canadian Society for the Study of Education.
Her general research interests include organizational wellbeing and mental health in education, teacher professional learning, mindfulness, and place-based learning.
"My experience at the Okanagan School of Education has been very rewarding both personally and professionally," says Darlene. "I am grateful to work with such a supportive and inspiring group of faculty members and fellow students."
Question and Answer Session with Darlene
What does receiving this award mean to you?
I am honored to receive the Doctoral Studies Conference Presentation Award this year. I really appreciate having the opportunity to share my work and build conversations with my colleagues!
What is your research project?
Taking findings from mindfulness research and combining that with research on the restorative effects of engaging with nature, I plan to explore how mindful nature experience supports teacher mental health and wellbeing.
What difference do you hope your research will make?
With stress and anxiety becoming the plague of the modern classroom, there is great need to address mental health and wellbeing proactively in our schools. Having taught for more than 20 years I was alarmed by the changes I was noticing in student and teacher wellbeing and consequently sought out research to understand what was going on and ways to help. This search for knowledge ultimately led me to begin my PhD. I hope to find an effective approach of promoting and supporting wellbeing for teachers that can be used individually and with classes of children. I would like to see mental health and wellbeing advanced as a priority in school districts.
What's your advice for future graduate students?
Follow your heart and let what you are passionate about lead you!
Be kind to yourself, remembering that learning is a process.
Actively seek out and embrace moments of connection to learn from and with others.
Supervisor: Dr. Sabre Cherkowski