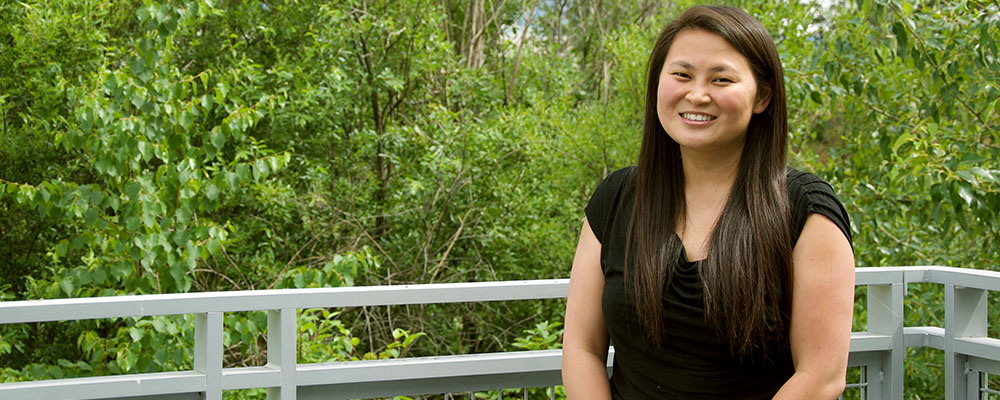 Congratulations to our Vicki Green Award recipient, doctoral student, Camille Rousseau!
The Vicki Green Graduate Award recipient is selected based on how their research will implement contemplative, transformational, imaginative or creative interdisciplinary understandings in sustainability for children, youth or teachers.
This fall will mark Camille's third year as an interdisciplinary Ph.D. student in the Okanagan School of Education. Committed to improving the school experience of children with Public Speaking Anxiety, Camille's research will explore the role of therapy dogs in fostering public speaking confidence and competency.
Question and Answer Session with Camille
What does receiving the award mean to you?
I am very grateful to receive this award in recognition of the research I am developing. My goal is to conduct applied research on the social-emotional and educational development of youth by investigating whether dogs, as part of children's ecology, can influence their developmental trajectory. Receiving this award allows me more flexibility to conduct research that inspires me. In this way, it is an important reminder to myself that I am well supported in my research and that findings hold potential of transformational significance for youth and innovative approaches in sustainable education interventions.
What is your research project?
Research related to public speaking (PS) competence has largely focussed on adults' PS anxiety as anxiety rates in in adult populations related to PS reach up to 70%. However, research suggests that PS anxiety often takes root at around 10-14 years of age and, for most, the opportunity to participate in formal communication training is limited to elementary and secondary school.  Still, although communication education, particularly public speaking, has long-term ramifications for students' personal development, academic achievement, and learning, little research has been done to explore young people experiences with PS anxiety and ways to support them.
Building on the success of canine-assisted reading interventions, this research project responds to the need to identify a method to improve youth public speaking skills by investigating whether therapy dogs can enhance children's PS experience. Specifically, with a triangulated data collection method we will investigate whether dogs reduce PS anxiety in children and whether presenting in the presence of a dog increases motivation to present and promotes behavioural indicators of PS competence.
What difference do you hope your research will make?
Canine-assisted interventions in educational spaces are proliferating across communities. This research aims to elucidate the ramifications of involving dogs in educational experiences.  Specifically, beyond facilitating students' academic achievement and augmenting their professional opportunities, this research holds potential to inform educators on innovative possibilities to cultivate and bolster public speaking competence. It also holds promise for Canadian families as a potential low-cost, sustainable intervention, especially given there are 7.6 million dogs currently living with Canadian families.
Ultimately, I hope findings from this research can help us nurture diverse generations of young people that can actively and confidently participate in learning communities through clear communication and sharing of information. This research forges ahead by exploring an innovative way to positively impact a developmental cornerstone of learning for our young leaders of tomorrow.
Graduate Supervisor: Dr. John-Tyler Binfet