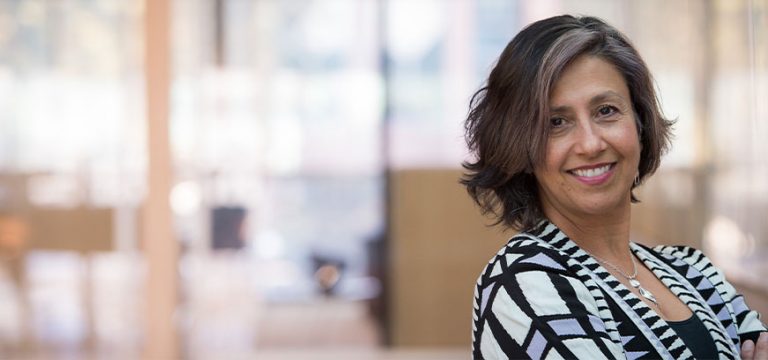 Each year the Provost recognizes individuals who make a significant impact on the culture of teaching and learning.
Congratulations to the 2020 Teaching Excellence and Innovation Award recipient, our very own Professor Karen Ragoonaden!
Here is what Dr. Ragoonaden's nominator had to say:
Dr. Ragoonaden always treated me with respect, offering both support and encouragement. I always felt like a knowledgeable and empowered individual with her and with the colleagues and researchers she works. In academic and community arenas, Dr. Ragoonaden has constructed the round table, where everyone has a respected voice.
Dr. Ragoonaden is influential, inspirational and innovative. She truly takes the time to build relationships and to foster understanding. I have learned a number of invaluable skills and techniques from her, including allowing space for students to grown on their own. As my role model, Dr. Ragoonaden helped me develop a strength and a resilience which convert challenging moments into learning experiences.
Without a doubt, Dr. Ragoonaden is an excellent candidate for this award. She has affected the lives of numerous students, colleagues, and community members. She is the pebble thrown into the calm lake, creating ripples that flow outward affecting change in many lives. I am honoured to have her as my supervisor and mentor.
Excellence in teaching cannot be taught. Dr. Ragoonaden developed her mastery, based on theory, awareness and feedback. It is evident that her successes are attributable to her hard work, her persistence, and her dedication.